Riichi Ueshiba (aka Reach Ueshiba) is a Japanese manga artist born September 4, 1969 (aged 49 as of 2018).
He has written and drawn Yume Tsukai (Dream User) and Nazo no Kanojo X (Mysterious Girlfriend X). These manga were later adapted into anime series. Characters from his earlier work Discommunication, also made cameo appearance in the 14th episode (OVA) of Mysterious Girlfriend X anime.
Ueshiba went shortly quiet after concluding Nazo no Kanojo X manga, most likely to take little break from public life and creating manga, but in 2017 he made comeback with his new manga Ookumo-chan Flashback, which he currently publishes monthly in Afternoon magazine, like all his previous works.
Riichi does not use social media platforms (or even a blog) communicating, only via omakes, or special chapters within his manga, where he often represent himself as one eyed humanoid cat.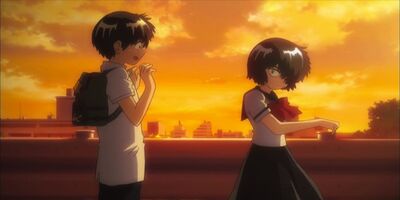 Works
Discommunication (1991–1999)
Discommunication: Gakuenhen (1998)
Discommunication: Seireihen  (1999–2000)
Yume Tsukai (2001–2004)
Nazo no Kanojo X (2006–2014)
Ookumo-chan Flashback (2017-)